Hampton Court Palace chooses Tourtalk
Sound Induction Systems Ltd has supplied a Tourtalk TT 40 tour guide system to Hampton Court Palace.

Having supplied tour guide systems to other Historic Royal Palaces, Sound Induction Systems were approached to supply a system to Hampton Court Palace for educational tours. After discussing the application and providing quotations for different systems, it was decided that the Tourtalk TT 40 system would be the most suitable system to meet their needs.
Tourtalk is a portable wireless tour guide system that helps tour groups overcome background noise and distance from the guide. Tourtalk is easy to set up and use, operates up to a distance of 120 metres and accommodates a limitless number of receivers.
This one-way radio communication system enables the guide to speak at a comfortable level to the group whilst ensuring they are clearly heard.The guide uses a transmitter. They can either speak into a microphone or connect another audio device e.g. mp3 player, to communicate with the group. The audio message is then transmitted to the receivers.
The visitors are supplied with a receiver and an earphone to hear the presenter's message. Each receiver has a volume control enabling each person to adjust their own volume to a comfortable level, without disturbing other people in the vicinity.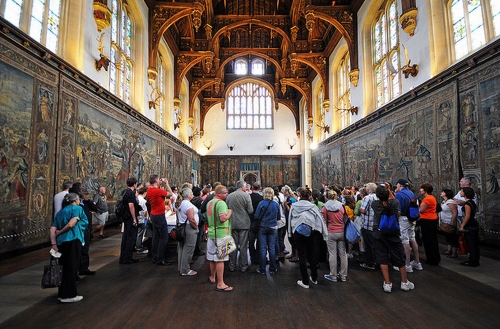 The transmitters and receivers are charged in charger/transport cases that provide protection when the system is not in use.
The system comprised of-
2 x Tourtalk TT 40-T Bodypack transmitter with lapel microphone and Aux-in lead
2 x Tourtalk TT 40-HM Headband microphone
39 x Tourtalk TT 40-R Bodypack receiver with TT 40-SEP single earphone
2 x Tourtalk TT 40-C Charger/Transport case
For more information on Hampton Court Palace click here!
For more information on the Tourtalk TT 40 system click here!