Sennheiser announce the arrival of the new Digital Revolution....
…..the D1 wireless system!
Sennheiser has launched evolution wireless D1, a range of digital wireless microphone systems that lets bands go wireless the easy way. With systems for vocals or for instruments, a band's life is made simpler: transmitters and receivers automatically pair and select suitable transmission frequencies, while multiple D1 systems can automatically co-ordinate themselves. The ew D1 operates in the 2.4 GHz range, which is licence-free worldwide.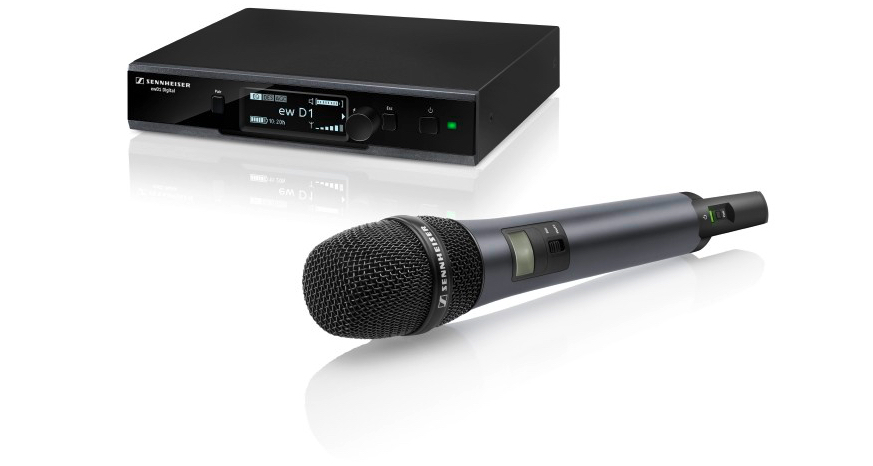 Ease of use is key
Bands can now just forget about frequency setting, matching transmitters and receivers, and getting the gain right – evolution wireless D1 offers true ease of use by doing all these time-consuming and sometimes error-prone chores for them.
Licence-free 2.4 GHz transmission with intelligent channel management D1 operates in the 2,400.0 to 2,483.5 MHz range, which is licence-free worldwide so there is no need to register the system or pay for the use of bandwidth. To allow co-existence with Wi-Fi, Bluetooth and other 2.4 GHz systems, the D1 receiver continually scans the RF environment, will inaudibly and seamlessly hop to another frequency if it detects any interference.
Two channels are always available; besides the actual audio transmission channel, the system runs a redundant back-up channel, thus providing frequency and time diversity. Transmission reliability is further increased by fast-switching antenna diversity.
Quality audio
The evolution wireless D1 employs the industry-leading aptX Live® codec that ensures excellent audio quality and wide dynamics for vocals, speech and instruments over the entire audio frequency range. Overall latency is a low 3.9 milliseconds, which is ideal if wireless monitors are to be used. To ensure optimum levels, the ew D1 automatically sets the correct microphone sensitivity.
Via the ew D1 menu control, bands have a range of audio effects at their disposal. These include a 7-band graphic equalizer, low-cut filter, automatic gain control and de-esser. The D1 vocal systems come with dynamic evolution microphone heads but can naturally also be combined with the condenser capsules from the acclaimed series, which are available as accessories.

Channel co-ordination
ew D1 systems co-ordinate themselves fully automatically. For multiple systems, receivers will synchronize themselves to accommodate up to 15 channels in an ideal RF environment.
Powering and control options
D1 transmitters can be powered by either standard batteries or rechargeable 'accupacks' that are available as accessories. These rechargeable lithium-ion packs recharge via USB or a docking charger and offer the additional advantage that the remaining battery life is indicated on the transmitter and receiver. Where required, the ew D1 system can be controlled by Apple® or Android® devices using a dedicated app.
Orders are already being placed so join the revolution and contact us for details!

Sennheiser ew D1 845 digital wireless vocal microphone system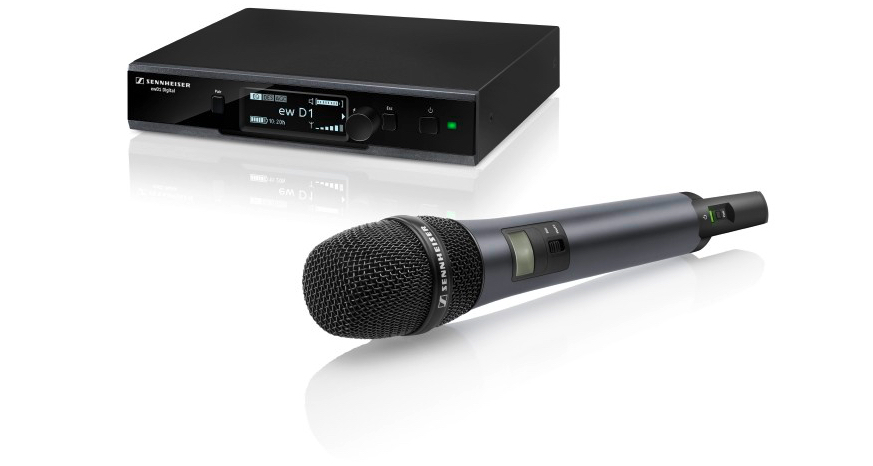 Sennheiser ew D1 ME2 digital wireless lapel microphone system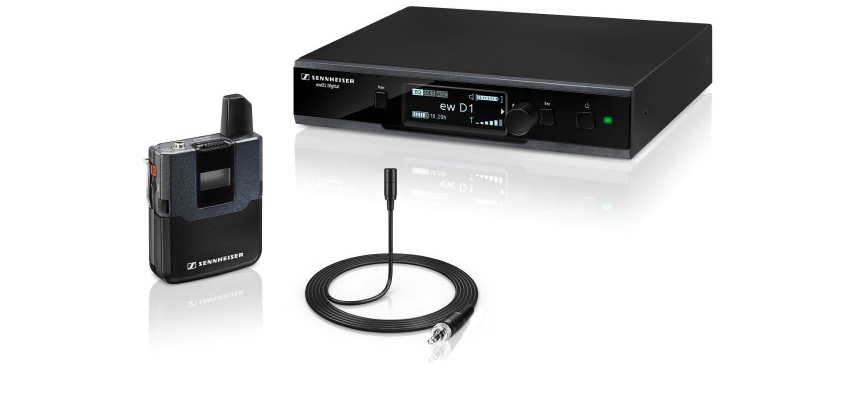 Sennheiser ew D1 ME3 digital wireless headworn microphone system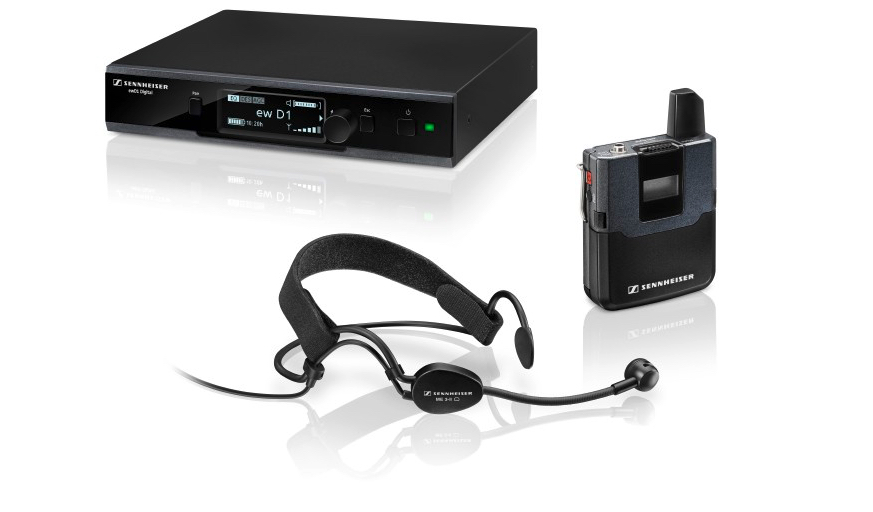 Sennheiser ew D1 CI1 digital wireless instrument system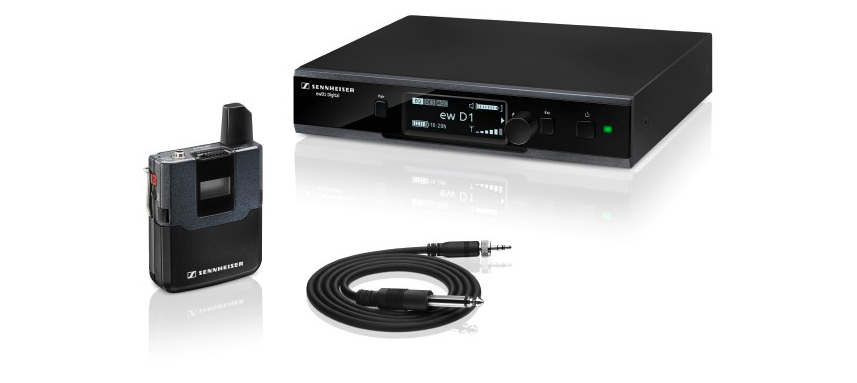 A Sennheiser ew D1 system transport case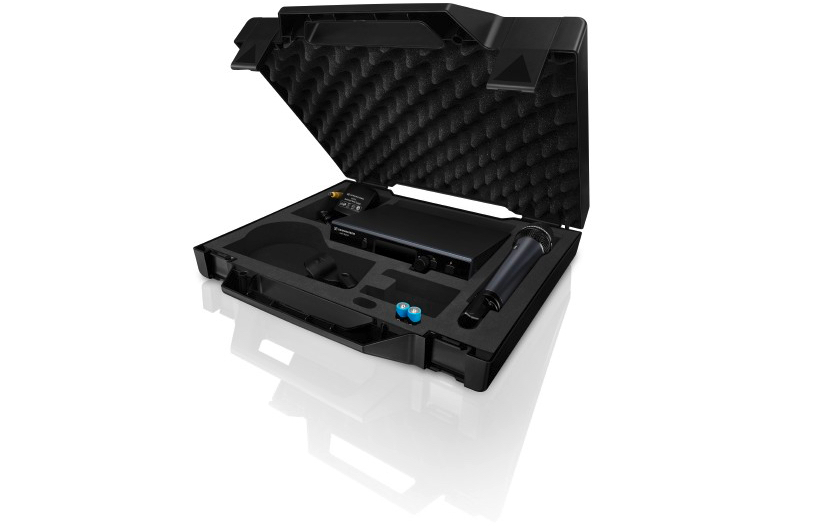 Downloads
Sennheiser D1 system brochure (6.4Mb PDF)
Sennheiser D1 system quick guide (2.1Mb PDF)
Sennheiser D1 system handling guide (2.4Mb PDF)
Sennhesier D1 vocal system spec sheet (471Kb PDF)
Sennhesier D1 lapel system spec sheet (448Kb PDF)
Sennhesier D1 headset system spec sheet (457 Kb PDF)
Sennhesier D1 instrument system spec sheet (442Kb PDF)