Portable simultaneous interpretation system for DS Virgin Racing Team
Sound Induction Systems have just supplied a Williams Sound Digi-Wave simultaneous interpretation system to the DS Virgin Formula E race team.
DS Virgin Racing approached SIS wanting a portable system that was compact, could be easily setup by non-technical members of staff and could be used licence-free on all continents. After discussing the different options it was decided that Digi-Wave would be the most suitable system.
Due to the unique Williams Sound design we were able to add a feature to the system that enables a mechanic to speak direct to the interpreter, who could then relay the message to non-English speaking corporate visitors.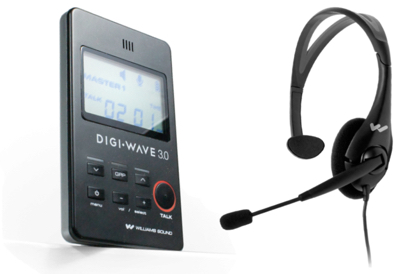 How it works
A mechanic is issued with a DLT 300 Transceiver with headset, and conducts a tour of the garage. An interpreter is also issued with a DLT 300 Transceiver with headset. The interpreter hears the message from the mechanic and then interprets the message into their assigned language.
The audience members are each issued with a DLR 360 receiver and earphone. They can then choose to either listen to the mechanic (if an English speaker), or the interpreter, and then adjust their personal volume to a comfortable level.
As the complete system is wireless the tour group can continue to talk while walking around the paddock area.
For more information on DS Virgin Racing please click here.
For more information on the Williams Sound Digi-Wave system please click here or contact us.