Williams Sound T2863 and R2863 tour guide system
This compact yet powerful tour guide system is ideal for factory/plant tours, city visits and anywhere else a presenter needs to be heard by their audience.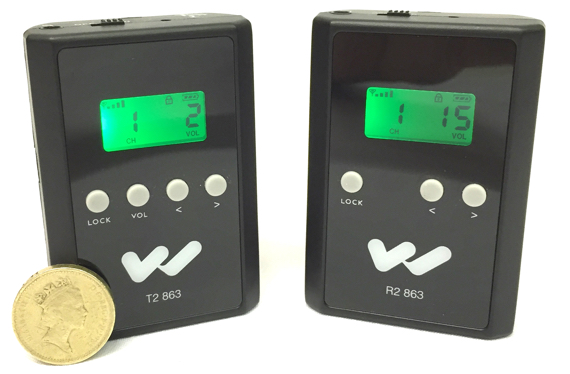 The system has been designed for maximum flexibility and ease of use. Both the transmitter and receiver feature-
A back-lit LCD screen that displays the channel, volume and battery level

Sixteen pre-programmed channels

A lock function that stops accidental channel selection for a reliable and trouble-free tour

Charging contacts on the bottom of each unit so batteries can be recharged without being removed

A range of up to one hundred metres

The T2863 transmitter and T2863R receiver have been optimised for (licence-free) use in Europe, and the system offers the exceptional audio quality you've come to expect from Williams Sound. With a wide range of accessories including microphones, earphones, lightweight and dual-muff headphones and neck loop (to comply with the Equality Act).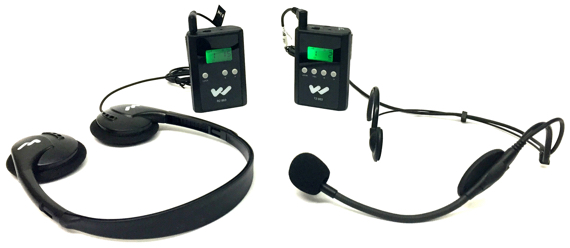 This versatile system can be used for many different applications including guided tours, hearing assistance and simultaneous interpretation.


System
Specifications
T2863 Transmitter & R2863 Receiver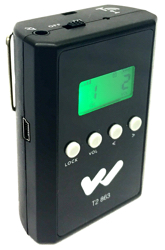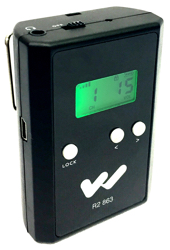 Battery Type: Two AA 1.5 V (can be recharged with a USB A to Mini-B cable or CHG 863-35 briefcase)
Battery Life: Transmitter up to 11 hrs, Receiver up to 20 hrs.
Operating Frequencies:
Ch. 1 863.075 Ch. 9 864.075
Ch. 2 863.200 Ch. 10 864.200
Ch. 3 863.325 Ch. 11 864.325
Ch. 4 863.450 Ch. 12 864.450
Ch. 5 863.575 Ch. 13 864.575
Ch. 6 863.700 Ch. 14 864.700
Ch. 7 863.825 Ch. 15 864.825
Ch. 8 863.950 Ch. 16 865.000
Non-interfering group channels: 1, 4, 8, 11, 16 Can be used simultaneously for up to 5 groups.
Sensitivity: -110 dBm
Distance: Up to 100 m (300 ft) Line of Sight
External Controls: Top: Power On/Off slide switch.
Front: Momentary push buttons.
Audio Input: 3.5mm microphone/audio
Audio Output: 3.5 mm stereo/mono headphone jack
Frequency Response: 20 Hz -16 kHz
Dimensions: 75 mm x 50 mm x 25 mm
Weight: 45 g (without batteries)
Warranty: 2 years
CHG 863 35 Charger brief case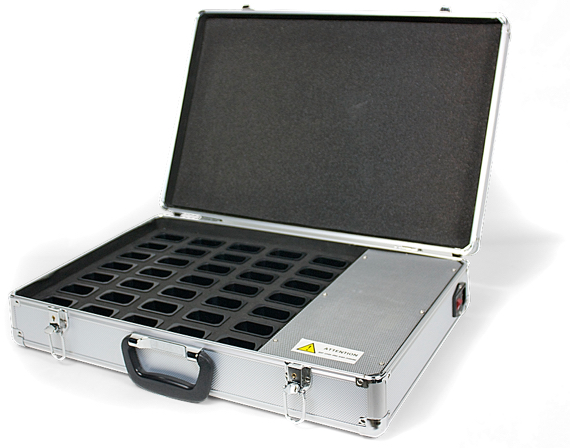 Dimensions: 56.2 cm L x 38.1 cm W x 12.9 cm H
Shipping Weight: 5.28 kg
Enclosure: Aluminium
Power: 100-240VAC, 50-60Hz
Capacity: Up to 35 Units can charge simultaneously
Charging Time: Up to 5 hours per unit
To discuss your requirements or for more information please contact us.



Downloads
Williams Sound T 2863 and R 2863 brochure
Williams Sound T 2863 and R 2863 quick guide
Williams Sound T 2863 and R 2863 specifications
Williams Sound 863 35 Charger briefcase specifications

Williams Sound 863 35 Charger briefcase manual