Williams Sound update Digi-Wave system with DLT 100 2.0 & DLR 60 2.0
Williams Sound have replaced the Digi-Wave DLT 100 transceiver and DLR 60 receiver with new 2.0 versions. These new updated and improved products are compatible with existing Digi-Wave systems.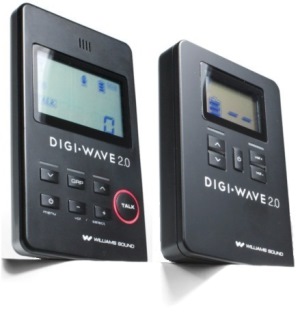 The new DLT 100 2.0 features and benefits are-
The Voting buttons have been re-assigned to Quick Group Change, and the voting function is no longer available.
Quick Group Change buttons allow the user to quickly change between different groups without having to enter programming mode. This complements the Quick Group Change feature on the new DLR 60 2.0 Receiver.
Talk "Off" Double-Beep gives the user an audible double beep sound when the Talk button is turned off. This is heard only in the headset and is not transmitted. Now has an upper limit at volume level 37.
Side Tone Adjustment. This function is accessed in the Set-Up menu and allows the user to increase or decrease the volume of their own voice heard in the headset (side tone).
Push to Talk Mode. This function is accessed in the Set-Up menu and allows the user to choose between Push and Latch (PnL) mode or Push to Talk (PtT). The default mode is PnL. When the Talk button is pressed, it stays in Talk mode until the button is pressed again. In PtT mode, the Talk button must be held down continuously while talking and turns off when released.
The Williams Sound Digi-Wave tour guide system enables full-duplex two-way communication. Each transceiver can transmit as well as receive the audio. This enables anybody on the tour to fully participate in the proceedings (with a maximum of two microphones live at any time). The main guide's transceiver can be setup as a master so they can have priority to interrupt at any time. The transmission is encrypted so can be used for events of a confidential nature, and as the new updated system still operates in the 2.4GHz band; it can be used licence-free in most countries.

Up to four groups can run simultaneously in two-way mode or fifteen groups in one-way operation. The flexibility of the Digi-Wave system makes it ideal for guided tours, simultaneous language interpretation, wireless intercom and many more applications.
Williams Sound still produce a wide range of accessories for the Digi-Wave system including charger/transport cases, protective silicone sleeves with lanyard, lightweight noise-cancelling headset microphones, heavy duty dual muff ear defender headsets and much more. Please visit the shop to see the wide range of accessories available.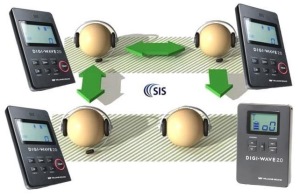 For more information on the Williams Sound Digi-Wave system please click here or contact us.

Downloads
Williams Sound Digi-Wave language interpretation brochure