Beyerdynamic Synexis Tour Guide System
The extensive features and product range make the versatile Synexis wireless system suitable for many applications including guided tours, assistive listening and simultaneous interpretation applications.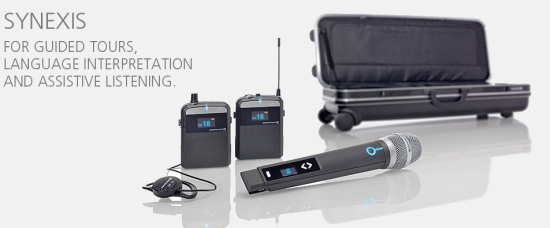 When speaking to a group of people it is essential that you can be heard. The Beyerdynamic Synexis tour guide system makes this easy. Before your event just distribute the receivers to your listeners and then speak into the wireless microphone transmitter. Each individual can then simply adjust their volume to a comfortable level ensuring they hear you clearly. This not only stops you having to shout, it keeps the group focused by reducing distracting background noise.
Transmitting
There are three different types of transmitters available for the Beyerdynamic Synexis system. For portable systems there is a handheld microphone or a beltpack transmitter. For fixed applications there is a stationary transmitter with microphone or line level input.
The handheld transmitter has a soft-touch surface which reduces handling noises, guaranteeing maximum speech intelligibility. Even with wind noise there is no need to raise your voice. This transmitter can be easily passed around the group for any questions.
The bodypack transmitter can be used with either lapel or head-worn microphone allowing the guide to work hands-free. An aux input is also integrated to connect an external audio source e.g. mp3 player.
Both portable transmitters have an illuminating mute switch.
Receiving
The robust receiver is very user friendly and can be worn on a belt clip or on a lanyard. The OLED screen clearly displays the selected channel and battery status. As with the transmitters, the receiver can be powered by rechargeable batteries or standard AA batteries. A wide choice of headphones are available to suit every scenario.
A weather-resistant belt bag is available for the bodypack transmitter and receivers to protect them on outdoor excursions.
Transport and charging
For the Synexis components there are various possibilities for charging and transportation available for any size system.
Features of the Beyerdynamic Synexis tour guide system include-
Licence-free within the EU
Mic and Aux-in feature on bodypack transmitter
Wide range of headphones, microphones and charging options
Clear OLED display on transmitters and receivers
Up to eight systems can be used simultaneously
Lanyards for hands-free use
Very easy to use
Applications
Assitive Listening
As the Synexis system is wireless, it is ideal for use for assistive listening. The receivers are available with headphones or inductive neck loop to work directly with a user's hearing aid on the "T" position. This allows the user to sit in any event and understand every word. Portable or installed transmitters enable the system to be used in many ways with minimal or no installation. The Beyerdynamic Synexis is ideal for listed buildings, theatres or stadiums.
Audio Description
An audio description system is used to describe an event to individuals (often visually impaired). The system is perfect for the performing arts such as theatre and dance or for live commentary at sporting events.
Language Interpretation
The Synexis system can also be used for whispered interpretation applications or in combination with other interpretation systems. If a small portable system is required, then a portable transmitter and transport case can be used, enabling the system to be ready to use within minutes of arriving at a venue. At large international events with multiple interpreters, a large area can be covered with one antenna which reduces the cost of installation. As multiple transmitters can be used simultaneously, up to eight languages can be distributed. The user then selects the channel they wish hear on their receiver.
Command or Training
For on the job training, horse riding lessons or any other scenerio where the instructor may be a distance from the trainee, the Synexis tour guide system ensures every word is heard discreetly.
For more information on the Synexis tour guide system from Beyerdynamic please visit the shop or contact us.
Downloads
Beyerdynamic Synexis tour guide system brochure
Beyerdynamic Synexis quick guide