Televic D-Cerno conference discussion system

Televic conference systems are ideal for council chambers, corporate boardrooms, and other meeting rooms. Whether you need a basic wired system for small meetings, a wireless portable system for regional events or a custom built system to be discreetly installed within a listed building, Televic has a system to suit!
D-Cerno
D-Cerno is Televic's digital discussion system for small to medium-sized conference applications. Amongst other systems on the market it stands out through its digital technology, its stylish design and its ease of use.
Connection of the delegate units and central unit is simply achieved by daisy chaining the equipment using standard shielded Cat5e cables.
It's not just good looks on offer from D-Cerno, it sounds great too thanks to Televic's digital audio transmission technology.
Digital technology
For small to medium-sized meetings, D-Cerno is the first product on the market based on digital conference technology. The technology inside D-Cerno is based on the same principles as the technology incorporated in Televic's flagship products of the top range.
Shielded microphone
Televic offers the best shielding of microphones in the market today, making its products immune to interference from mobile phones. The Televic shielding technology has been incorporated also in the D-Cerno product.
Fanless operation
The central unit has no fan, so it is absolutely silent and can be placed in the room and near the chairman or delegates without any concern for fan noise.

Fail-safe redundancy (Patent Pending)
D-Cerno can be cabled both in branch (daisy-chain) or in loop. When cabled in loop, a patent pending redundancy mechanism guarantees that the system continues to work, should a cable break or be disconnected for some reason.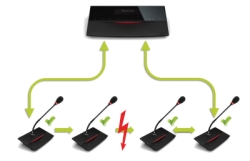 Plug-and-play
The D-Cerno system is designed to work out-of-the box, with hardly any technical expertise required:
•Wiring is easy: from unit to unit, in daisy chain, without having to worry about in or out: each bus connection will auto-sense whether it is to work as an in or an output. So cabling errors are virtually impossible!
•No initialisation procedure required. After wiring the system, it is ready for operation.
Integration and recording
The control units auxiliary line in and line out connections allow the D-Cerno to be integrated with existing sound systems, assistive hearing systems and video conferencing systems.
Meetings can be recorded either via the line output feeding an external device or (on the optional R control unit) directly onto two USB solid state memory sticks.
Touch sensor button technology
D-Cerno makes use of the most recent touch sensor button technology offering the following benefits:
•Hygienic and easy to clean: there are no gaps around the buttons where dirt and bacteria can accumulate.
•No moving parts: no wear of the button, offering equal performance over the entire life of the product.
•No clicking sound when activating or deactivating the microphone.
Portable
With the custom storage case and quick set-up of the system, the D-Cerno makes an attractive and affordable portable system.
Downloads
Televic D-Cerno brochure (606Kb PDF)
Televic D-Cerno catalogue (2.4Mb PDF)
For more information or a quotation please contact us