Details
Sennsis
offer a complete range of Equality Act compliant portable infrared hearing loop systems.
Portable infrared hearing systems are a cost effective and easy to use alternative to perimeter induction loop systems. They have the advantage of no trailing wires around the area to be covered and can be set up in minutes. They are ideal for meetings of a confidential nature as the infrared light cannot penetrate the walls of the room.
A portable infrared hearing system comprises a boundary microphone, an infrared radiator (with pre-amplifier) and infrared receivers.

The preamplifier has all the connections that are ever likely to be needed and includes an (optional) integrated radio microphone receiver.
The preamplifier has the following facilities:
- Slave output for connecting a "Booster" infrared radiator
- DC input for connecting power supply unit
- Line output for connecting to the input of an external device
e.g. mp3 digital recorder
- Line input for connecting to the output of an external device
e.g. sound system
- Microphone input
- Radio microphone receiver (optional)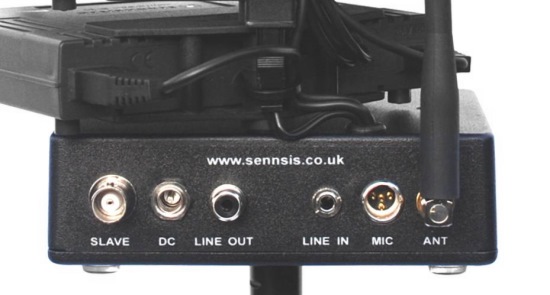 The microphone inputs into the system are: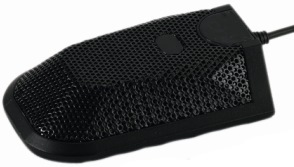 Boundary microphone (above)
This sensitive microphone plugs directly into the preamplifier and is ideal for picking up the proceedings of a meeting around a table.
Radio microphone (optional)
Radio microphones are available in two types– a lapel microphone or a handheld microphone (above).

Both microphones are wireless allowing the main speaker the freedom to move around the room without any trailing wires.

The microphone signals are then transmitted by the radiators around the room in the form of infrared (invisible) light. As this light cannot penetrate walls this provides complete confidentiality*.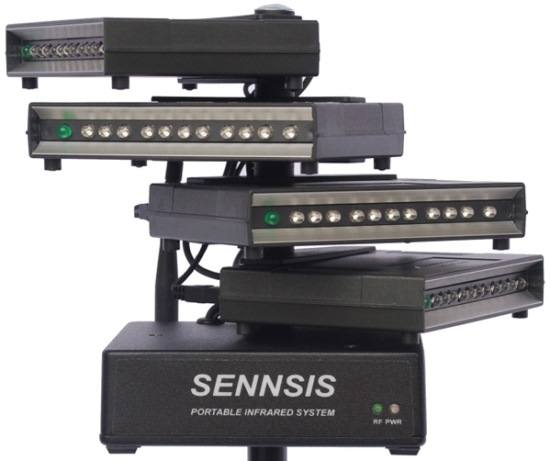 The pre-amplifier and radiators are mounted on a telescopic table stand and are adjustable to ensure even coverage of infrared light throughout the room. Systems are available to cover areas from 80 to 400 square meters.

Infrared receivers are used to convert the infrared light signal to audio. They are available in two types
Inductive neck loop (Sennheiser RI 830 S & EZT 3011)
This receiver provides a personal induction loop system to assist hearing aid wearers with the "T" telecoil function and is worn around the neck
Stethoset (Sennheiser HDI 830)
This receiver can be used by non-hearing aid wearers and is worn on the ears.
Both types of receiver are lightweight and easy to use. The wearer simply adjusts the volume to suit themselves using the ergonomic volume control on the front. The neck loop receiver's ON/OFF switch is in the centre of the volume control. The stethoset receiver automatically switches ON when placed on the ears, and OFF when removed to preserve battery life. Both receiver types use rechargeable batteries and are charged in either 2 or 10 way chargers. There is no limit to the number of receivers that can be used on a system. Additional infrared receivers can be purchased by clicking here: Receivers and chargers. N.B. All Sennsis infrared systems are fully compatible with the older Sennheiser RI 150 & RI 150 LL infrared receivers and charger. Please contact us for availability and quantity discounts.

Sennsis portable infrared systems use Sennheiser state-of-the-art infrared technology, yet are designed to be "plug and play" with no user controls. Each system can be easily set up by non-technical users without any prior experience of the equipment.
Each system is supplied with a custom protective storage case with retractable handle and wheels (to enable it to be towed like a suitcase). The storage case will comfortably hold any Sennsis portable infrared hearing system, with space for the other optional accessories available. e.g. The case will hold the Sennsis radio microphone system, the 10 way IR receiver charger and up to 20 IR receivers.

Features:
- Quick to setup and easy to use
- Can be used with or without a hearing aid
- Well proven reliable technology
- Secure for meetings of a confidential nature
- Not affected by systems in adjacent rooms
- DDA compliant (meets BS 7594 (AFILS) and BS EN 60118-4 IEC standards)

Delivery Includes
1 Boundary microphone
1 SENNSIS portable infrared hearing system
1 Storage case

Please select other options when ordering

*System is only secure when used with either the boundary or digital radio microphone option. Please contact us for details

Technical Data
Portable infrared hearing systems


SENNSIS P-80L
Modulation FM
Nominal deviation +/- 50 kHz
Carrier frequency 2.3 MHz
Output impedance 50 Ohm
IR diodes 11
Max. coverage area 80 m²
Effective radiated power 0.5 W
Operating voltage 24 V DC
Weight 4KG


SENNSIS P-160L
Modulation FM
Nominal deviation +/- 50 kHz
Carrier frequency 2.3 MHz
Output impedance 50 Ohm
IR diodes 22
Max. coverage area 160 m²
Effective radiated power 1 W
Operating voltage 24 V DC
Weight 4.1KG


SENNSIS P-240L
Modulation FM
Nominal deviation +/- 50 kHz
Carrier frequency 2.3 MHz
Output impedance 50 Ohm
IR diodes 33
Max. coverage area 240 m²
Effective radiated power 1.5 W
Operating voltage 24 V DC
Weight 4.2KG


SENNSIS P-320L
Modulation FM
Nominal deviation +/- 50 kHz
Carrier frequency 2.3 MHz
Output impedance 50 Ohm
IR diodes 44
Max. coverage area 320 m²
Effective radiated power 2 W
Operating voltage 24 V DC
Weight 4.3KG


SENNSIS P-400L
Modulation FM
Nominal deviation +/- 50 kHz
Carrier frequency 2.3 MHz
Output impedance 50 Ohm
IR diodes 72
Max. coverage area 400 m²
Effective radiated power 2 W
Operating voltage 24 V DC
Weight 4.4KG

Infrared receivers
Stethoset receiver (Sennheiser HDI 830)/
Neck loop receiver (Sennheiser RI 830 S & EZT 3011)
Modulation FM, mono
Receiving frequency 2.3 MHz
Frequency response (headphones) 50 - 16,000 Hz
Max. Sound pressure level 125 dB (1 kHz)
THD, total harmonic distortion < 1 %
Signal-to-noise ratio typ. 75 dB(A)
Operating time (Accupack) up to 12 hrs
Charging time approx 3 hrs
Weight incl. Accu approx. 70 g
Infrared receiver chargers
Charging time approx. 3 hrs
Charging current per charging compartment approx. 70 mA
Current consumption max. 2 A
Voltage 6 V
Weight approx. 530 g (2 way charger)
Dimensions 400 x 130 x 50 mm (10 way charger)

Options/Accessories

UHF Radio microphone system
Handheld microphone
This transmitter has an integrated microphone and can be heldheld or placed on a stand. This microphone is ideal if different people are taking place in a meeting as it can be easily passed around.

Features
Dynamic microphone cartridge, cardioid characteristic
16 selectable UHF frequencies (863.1-864.9MHz)
Sensitivity to be adjusted in 2 steps (for whisper or speech)
Mute "cough" switch
Backlit LCD for channel/frequency and battery status
Soft finish to reduce hand noise
Lightweight, yet robust design

Technical specification
Transmitting power: 10mW (EIRP)
Power supply via 2 x 1.5V battery AA size (supplied)
Licence free in the EU.
Carrier frequency 863.1-864.9MHz
Audio frequency range 70-16,000Hz
Frequency stability ±0.005%
DimensionsØ 46mm x 265mm
Weight 250g

Lapel microphone
This microphone is ideal for when one person is addressing a group. As the microphone is clipped to the lapel, it moves with the speaker so the listeners can hear every word. The bodypack transmitter can be easily placed in a pocket, held in the hand or fitted with the integrated belt clip.

Features
16 selectable UHF frequencies (863.1-864.9MHz)
Metal housing
Microphone connection via 3-pole mini XLR jack
Audio line input via 3.5mm stereo jack (to allow an external audio source to be connected)
Sensitivity to be adjusted in 3 steps
Mute "cough" function
Backlit LCD for channel/frequency and battery status
Transmitting power: 10mW (EIRP)
Power supply via 2 x 1.5V battery AA size (supplied)
Belt clip
Licence free in the EU.

Technical Specification
Transmitting power: 10mW (EIRP)
Carrier frequency 863.1-864.9MHz
Audio frequency range 70-16,000Hz
Frequency stability ±0.005% Operating time
Dimensions 65x95x30mm
Weight 110g

Integrated radio microphone receiver
Features
RF LED on pre-amp indicates when radio signal is being received
No additional wires or setup

Technical specification
Receiver channels 16 Licence free (within EU) with pilot tone
Carrier frequency 863.1-864.9MHz
Range > 25m
Weight 45g
Please see individual product pages for more information on the following options
Sennsis floor stand Lightweight adjustable floor stand for the system
Sennsis P-400S Slave infrared "Booster" radiator (to increase coverage of system by an additional 400m²) with protective case and aluminium floor stand

Sennsis P-800S Slave infrared "Booster" radiator (to increase coverage of system by an additional 800m²) with protective case and aluminium floor stand
Additional Information
| | |
| --- | --- |
| Manufacturer | Sennsis |
| pdf | N/A |