Approved hearing loop assessor

Sound Induction Systems Ltd are now a ISCE (Institute of Sound and Communications Engineers) approved hearing loop assessor.
Sound Induction Systems installed their first induction loop system in 1985 and have since provided over a thousand systems throughout the U.K and abroad. We have installed all types of induction loop from localised field systems in reception counters to ultra-low spill array in conference centres.
What is an induction loop?
Audio Frequency Induction Loop Systems (A.F.I.L.S) are used by hearing aid wearers to assist them to hear clearly in difficult acoustic environments e.g. churches, theatres, reception areas, etc.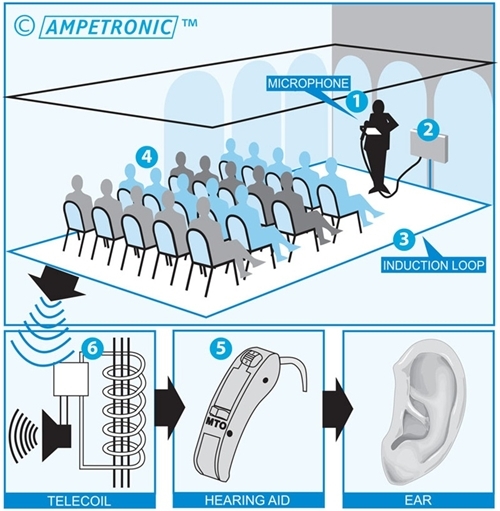 Induction loops replace the sound path between the signal sound and the hearing aid wearer with a magnetic field. The magnetic field is induced into the "telecoil" (hence the "T" position) which is featured on most hearing aids, and converted back to audio. When a hearing aid is switched to the "T" position the microphone on the hearing aid is disconnected, so the user simply hears what is fed into the induction loop system without the background noise. For more information click here!
Sound Induction Systems recently attended the ISCE course to learn the latest best practice and relevant standards. The course covered the design and installation of induction loop systems (AFILS) and measurement and certification of AFILS (audio frequency induction loop systems) with BS EC 60118-4:2006.
ISCE members who are registered on the Hearing Loop Assessment Scheme, are competent and trained in the latest technique and practices and have either passed (not just attended) one ISCE AFILS training course, have evidence of three recent successful AFILS installations, with confirmation by the client of satisfaction, or are members of BSI committee EPL100–1 (the BS 7594 committee) or TC29 MT20 or WG22 (the IEC committees).
Sound Induction Systems Ltd are approved induction loop installers and dealers for Ampetronic, Signet, Current Thinking and Contacta. We also design, supply and commission infrared and radio aid systems to assist hearing impaired people.
Whilst induction loop systems are now mandatory for many premises, a large proportion are badly designed, poorly installed, and rarely maintained. If you have a problem with an existing induction loop and want a service or independent survey then please contact us.
For more information on the ISCE please click here!