Discussion & Delegate Systems
We have supplied conference and discussion systems throughout the UK, from portable wireless systems for regional meetings and multi-use rooms, to fully installed systems in boardrooms and council chambers. Every system is designed to suit each customer's specific needs.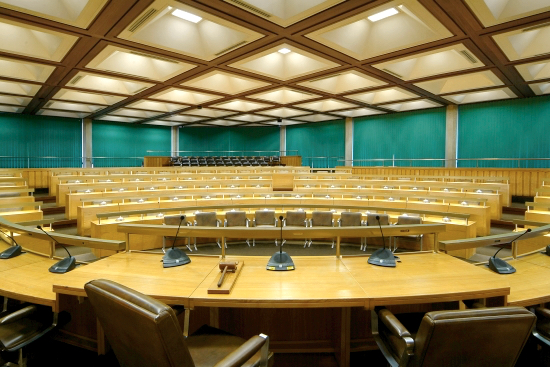 Conference and discussion systems provide an individual microphone and loudspeaker to each delegate ensuring everybody taking part in a meeting is clearly heard. They add structure to a meeting, promoting interactive discussions while allowing the chairperson to control the flow of the meeting.
As each delegate unit has a loudspeaker and microphone, clear and even amplification is achieved around the room. A red ring illuminates around the top of each microphone when in use so other delegates can clearly identify who is speaking.

Wired or wireless?

If the system is to be permanently installed into a room with a fixed layout, then a hard wired system is recommended. The delegate units are available as surface or flush mounted. NB. Flush units can be custom finished to help blend into Listed premises.

If the room is multi-use and different room configurations are required or the system needs to be portable, then a wireless conference discussion system is ideal. A wireless system allows delegate positions to be set up quickly without the clutter and health and safety issues of trailing wires.
Wireless conference discussion delegate units use rechargeable batteries and are charged in charging racks.

Additional features:
- Conference discussion systems are much more than speech reinforcement systems. They can be used to control delegates speaking time, votes (with delegate ID), provide simultaneous interpretation, camera control and record the meeting.
- Whether the conference discussion system is wired or wireless, a 'chairman unit' is usually used to enable the chairperson to control the proceedings. They allow a chairperson to interrupt at any time, start voting and other functions depending on the system in use.
- Conference discussion systems are controlled via a central control unit (CCU). The CCU is used to control and configure the system. They also allow the connection of ancillary equipment into the system such as-
- An input from radio lapel and radio handheld microphones to allow presenters to move around the room, and members of the public gallery to ask questions to the floor.
- An input to allow the output audio from a laptop or any other audio system to feed the conference discussion system.
- An output to feed a recording device to keep a record of what has been said.
- An output to feed loudspeakers (to reinforce the sound for the public gallery or for any observers) and/or to feed an induction loop or infrared system to assist people that are hard-of-hearing and to comply with the Equality Act.

The central control unit can often be controlled via a PC. This can allow the user to configure the system and pre-set room layouts, remotely control microphones, provide graphical display of voting results and more!

We can supply systems from all the leading manufacturers including DIS, Beyer, Bosch, RCF, JTS, Sennheiser, Televic and TOA.
Do you need a discussion system that can be used on the move? Have you considered a Williams Sound Digi-Wave system?
Televic
JTS
Sennheiser