Simultaneous interpretation systems
Simultaneous interpretation is a method of interpreting what is said in one language into another language in real time. The interpreter listens to a source language either naturally or via headphones and then translates the message in their allocated language into a microphone.
Multiple interpreters can translate into multiple languages within the same room.
The delegates use headphones to hear the interpretation.
The interpretation can be sent to the delegates either by a wired system, where the delegates connect headphones to an installed socket, or wirelessly where the delegates must use a receiving device.
There are three common methods of transmitting the interpreter's messages to the delegates – Infrared (IR), Radio (RF) and WiFi (BYOD). Each of these options can either be installed in a venue or be portable.
Sennsis portable infrared translation systems
We have supplied and maintained portable infrared systems for years to many different organisations and independent interpreters. Infrared is a popular system where confidentiality is a priority as the infrared signal cannot penetrate the meeting rooms walls, making it difficult for anybody outside the meeting listen to the proceedings.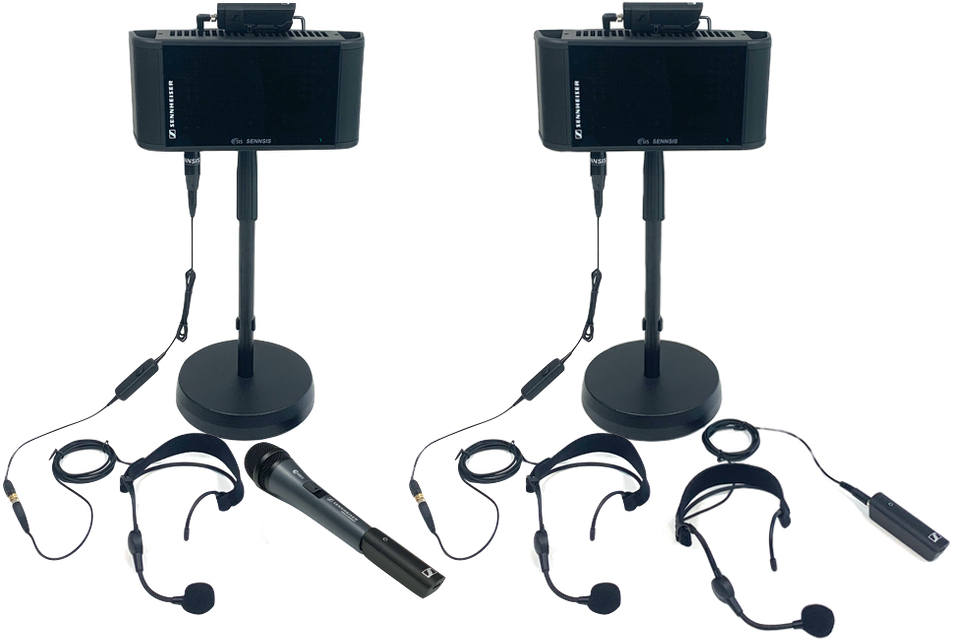 The Sennsis PIR 400 portable infrared system is supplied with a wired interpreter's headset (with inline 'cough' mute switch) and a telescopic table stand. A digital wireless bodypack transmitter or handheld microphone transmitter is available as an option. A custom case protects and stores the system between events.
The infrared radiator emits the interpretation via (invisible) infrared light throughout the room. The delegates are each issued with an infrared receiver to convert the infrared signal back to audio so they can hear the interpretation. Receivers are available in two versions. A stethoset receiver has arms and ear buds that rest on the ear. A bodypack receiver has a socket to connect an earphone or (if being used by a hearing aid user) an inductive neck loop. Both types of receivers are charged in a ten-way charger.
RF translation systems
RF systems (also known as FM or tour guide systems) are a popular option for interpreters that require a wireless and portable solution that can be setup quickly and be operated indoors or outdoors.
RF systems can be configured in many different ways to suit the event. The most common method is for each interpreter to 'whisper' the interpretation into portable wireless microphone transmitters, each set to a different channel. The delegates are each issued with a RF receiver to convert the radio signal back to audio. Receivers are available in two versions: A Stethoset or a bodypack. Each delegate can choose which interpreter they want hear by selecting the appropriate channel on their receiver.
Stationary transmitters are also available for use with an interpreter console. A console can enable the interpreter to select the language they want to hear and adjust the sound to suit their preference. They can then interpret the message into their allocated language.
WiFi (Bring Your Own Device)
The interpretation audio is streamed over a WiFi network. The delegates listen via their personal smartphone/tablet either by downloading an app or via a web address.
Systems that use artificial intelligence to interpret are also available. These systems can convert live speech to text (displayed via a screen) or audio (transmitted via the above methods) in real time. These systems are new to the market and require a licence. There are currently 27 languages (with more than 70 dialects) available.
Please contact us for more information.