Tourtalk TT 100 tour guide system
Capture your guest's attention and keep them focused and engaged with a Tourtalk TT 100 system. This digital tour guide system helps the tour group overcome distance and background noise from the tour guide(s).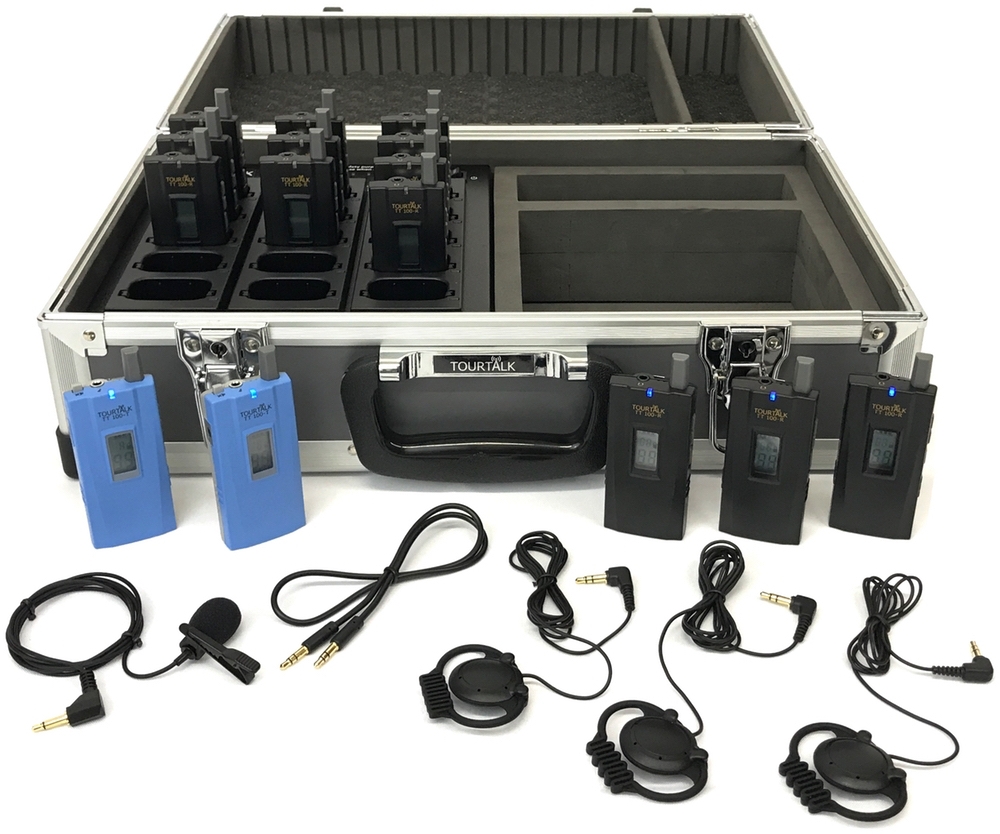 The system comprises of a transmitter (or two transmitters if dual presenter mode is required) for the tour guide(s) and receivers for the audience.
The Tourtalk TT 100-T transmitter has all the features you will ever need; including integrated microphone, microphone socket, microphone mute switch, aux-in socket, dual presenter mode and wireless channel sync.
Dual presenter mode enables two tour guides to communicate to the same tour group. Alternatively, the second transmitter can be used for interviews or question and answer sessions. Wireless channel sync allows the transmitter's channel to be wirelessly synced to a batch of receivers.
The Tourtalk TT 100-R receivers are used by the audience to convert the transmitter(s) signal back to audio. Each audience member is supplied with a receiver set to the same channel as the presenter(s). The user simply connects the (supplied) earphone or optional headphones, to hear the message and adjusts their personal volume.
The system enables the guide(s) to speak at a comfortable level to the group whilst ensuring they are clearly heard.
The transmitter and receivers are supplied with a lanyard and belt clip to enable hands-free use. Each unit operates on a single AA battery. Either Alkaline or Ni-Mh rechargeable batteries can be used.
A wide range of accessories and pre-prepared packages are available for the system. Whether the tour is taking place at a manufacturing plant, a museum or in an open field, a Tourtalk TT 100 tour guide system can be used to provide a professional experience for your guests.
With 100 channels and no limit to the number of receivers per group, this versatile system is ideal for many applications including hearing support, audio description, simultaneous interpretation, command training, silent conferencing and more.
Features of the Tourtalk TT 100 tour guide system include:-
Integrated microphone on transmitter with mute switch
Wireless channel sync
Receiver supplied complete with earphone
Digital for secure and reliable communication
Dual presenters per group
No limit to the number of receivers per group
Compact and lightweight units - only 75g!
Channel lock for reliable use
Lanyard and belt clip for hands-free use
Aux-in for connection of external audio source
Transmitter supplied with lapel microphone
Standard 3.5mm socket allows use of headphones or inductive neck loop
100 licence-free channels
Parallel operation of up to twenty channels without interference
Single AA battery operation
Completely wireless so no installation
Durable and very easy to use
LCD display with channel and battery status
Wide range of accessories available
For more information on the Tourtalk TT 100 tour guide system please visit the Tourtalk website, contact us or visit the shop.
Downloads
Tourtalk TT 100 tour guide system