Tourtalk TT 300 two-way communication system
The new Tourtalk TT 300 system is the perfect solution for a wide range of applications where secure, reliable, hands-free, full-duplex communication is required.
The lightweight and compact wireless transceivers enable up to six users to speak simultaneously with an unlimited number of users listening per group, in crystal-clear audio.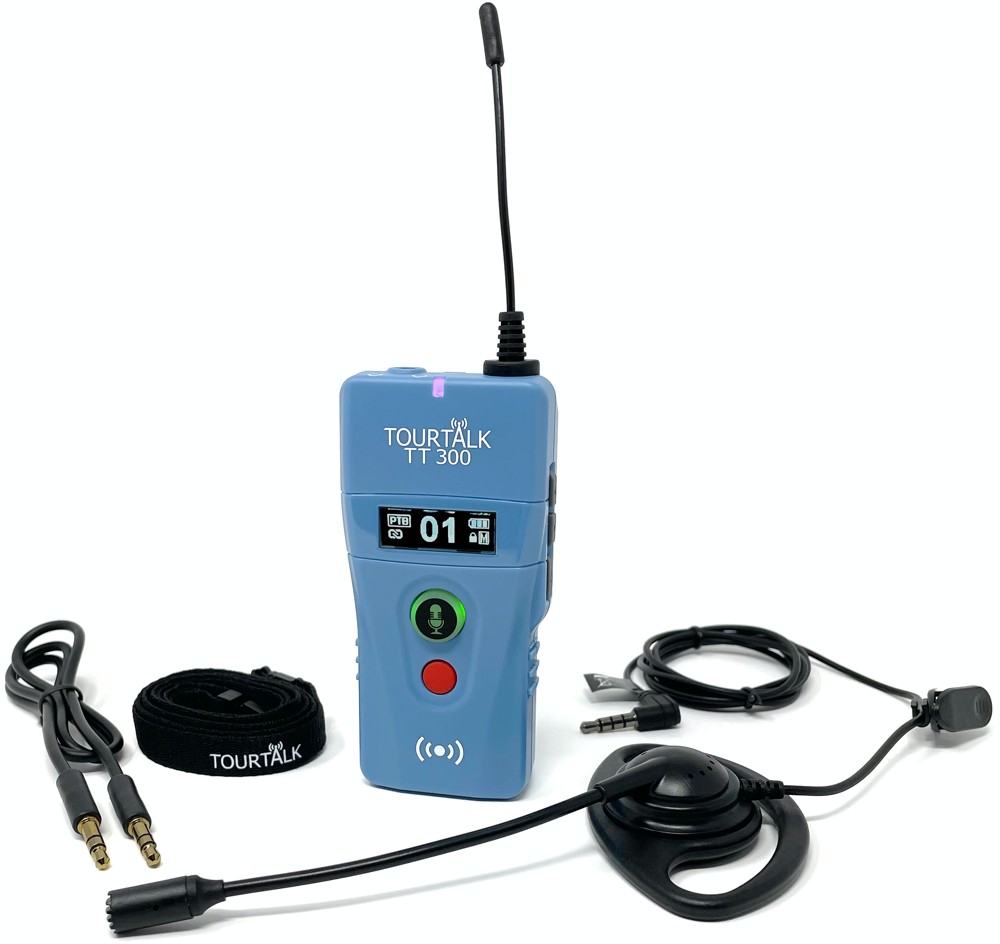 The universal design enables any TT 300 to be set-up as a Master unit, Sub-Master unit or Listen unit.
Master unit: Used by the main presenter (has priority function).
Sub-Master unit: Used by other participants to speak to the group (when the main presenter permits).
Listen unit: Used by any observers to hear only.
The TT 300 system promotes interaction by allowing the main presenter to engage with their audience allowing them to fully participate in open conversation, ask any questions, or make comments. The main presenter can interrupt (and disable the talking rights) of all participants at any time to maintain control of the proceedings.
A wide range of headsets are available to suit any organisation that may require staff to wear face masks, face shields, hair nets, bump caps, hardhats, hearing protection and other PPE equipment.
Multiple independent groups can operate in parallel without any cross talk. For any private discussions, a closed group can be encrypted to stop others joining and hearing what is said.
TT 300 can also be used (with an optional adaptor) to communicate with remote people via a voice/video call. Simply connect a tablet or smartphone to a transceiver to enable people on the call to fully participate and interact with the group in real time. The adaptor can also be used (with a suitable app) to record the proceedings, if required.
Example of use
The problem
An engineer is unable to visit an industrial site to attend a machinery breakdown, due to travel restrictions as a result of the Covid-19 pandemic. Background noise in the workshop makes it impossible to make a telephone call.
The solution
Staff based at the site have a Tourtalk system with noise reduction headsets. The staff connect a smartphone with (TT-RPA) adaptor to the Tourtalk system and video call the engineer to explain the issue. The members of staff can then show the engineer the problem and discuss how it can be resolved.
The transceivers are supplied with a lanyard and belt clip to enable hands-free use. Each unit operates on two AA batteries. Either Alkaline or Ni-Mh rechargeable batteries can be used.
Tourtalk TT 300 is ideal for many different sectors including-
Shops/Supermarkets
Commercial Kitchens/Takeaways
Factories/Manufacturing sites
Garages/MOT testing stations
Warehouses and distribution centres
Post Office sorting rooms
Laboratories
Nursing/Care homes
Hospital wards
Pharmacies
Plumbers, electricians and other construction workers
Maintenance staff
Garden Centres/Hardware stores
For more information on the Tourtalk TT 300 communication system please visit the Tourtalk website, contact us or visit the shop.
Downloads
Tourtalk TT 300 Full-Duplex Two-Way Communication System (507.83 kB)