New infrared hearing system from Listen Technologies
Listen Technologies continues leading the innovation of IR solutions with a suite of the new ListenIR products- delivering exceptional sound in a variety of venues. With twice the power, and coverage area up to 2,700 square metres, you can transmit clear, focused audio directly to your intended audience—and no one else. ListenIR solutions are designed for quick and easy installation and maintenance.
IR products are ideal for assistive listening and language interpretation in boardrooms, courtrooms, council chambers, or other environments where privacy is important.

The new LT-84 ListenIR Transmitter-Radiator is the only product of its kind that provides complete coverage in a wide variety of venue spaces. This advanced IR product is simple to use, cost-effective, designed to blend in to any environment, and offers twice the amount of IR power of similar products, and up to six times the coverage area.

The radiator has an integrated modulator and features 3.5mm electret mic, twin RCA and Phoenix balanced audio connections.
A single unit provides up to 30,000 ft² (2787 m²) coverage area with LR-4200-IR/LR-5200-IR receivers or 7,500 ft² (697 m²) with LR-42/LR-44 receivers in single channel mode, ensuring that the entire room has coverage without gaps or null spots.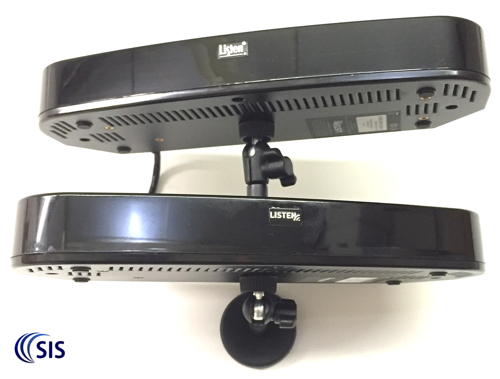 The LT-84 is the first IR system with Expansion Radiators (LA-141) that implement delay compensation to reduce signal cancellation drop-out.
It is the only two-channel Transmitter-Radiator with up to four frequencies; 2.3 MHz, 2.8 MHz, 3.3 MHz, or 3.8 MHz, providing flexibility in the field and eliminating the need to purchase a specific frequency based transmitter-radiator.
The LR-4200-IR/LR-5200-IR receivers operate on lithium-ion batteries and are charged via a mini-USB cable that connects to a plug-top PSU or a twelve-slot charging rack.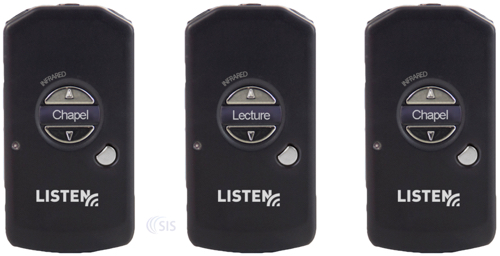 The receivers are manufactured from IR transparent plastic for reliable reception. Each receiver also has an OLED screen and integrated DSP that can be programmed via free software.
Each receiver has two headphone sockets that can also be used to connect the innovative LA-430 neck loop.

Once connected the neck loop acts as a lanyard for the device.

The neck loop also has an integrated headphone socket, enabling the connection of a single earphone so the receiver can then be used by a non-hearing aid wearer.

For more information please visit the shop or contact us.