Sound and loop systems for Mid-Wales Village Halls
Sound Induction Systems Ltd has recently installed two village halls in Mid-Wales with new sound systems.
Leighton Village Hall, near Welshpool approached Newtown based Sound Induction Systems Ltd wanting a local company to advise them on an amplification system for their multi-use hall. They also wanted to cater for hearing impaired people as they had complaints that people couldn't hear during large events due to the poor acoustics.
We met with representatives of the hall and discussed their requirements in detail. Extensive alterations were planned within the building to construct a control room above the main performance area.
As the village hall is used in many configurations by different user groups, the system had to be flexible enough to cater for all room layouts.
The sound system comprises of a DAS Action 12 loudspeaker installed high-up in each corner of the hall. Each loudspeakers volume can be controlled independently to enable the system to be adjusted to suit each event.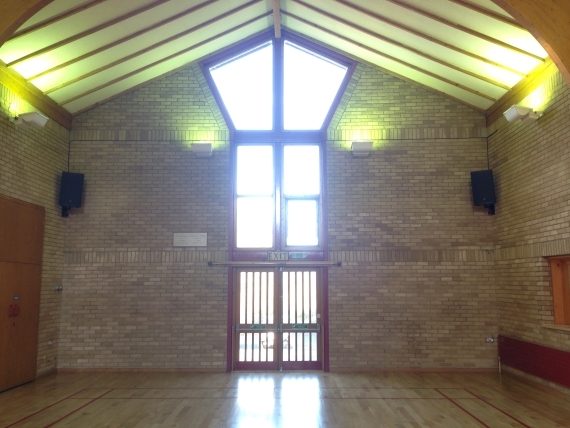 A twelve-way stage box is installed in the front corner of the room and a multi-core microphone cable run to the Soundcraft mixing desk in the control room. Input sources are from wired and wireless Sennheiser microphones and a professional Denon CD player. A DI box was also supplied to enable the connection of an iPad/smart phone or laptop, for video presentations.

An induction loop system was also installed within the village hall. This is fed from the microphone mixer to ensure every input simultaneously feeds the hearing loop. An induction loop test receiver enables the system to be tested or demonstrated at any time. Signage was provided in English and Welsh to inform hearing aid wearers that the system was installed.
Pant-Y-Dwr Community Hall was built in 2012 as a multi-use building.
Sound Induction Systems met with the Committee at the hall and discussed their requirements. It was decided that the control equipment needed to be portable so it could be securely stored when not required.
The control equipment is built into a mobile equipment rack on lockable wheels. A wiring loom is simply connected to a wall plate at the rear of the hall to enable it to connect the induction loop, microphone points (at the front) and loudspeakers.