Speech Transfer Sound Systems
Speech transfer systems enable full duplex two-way communication between customers and staff through glass security screens. Transactions can therefore be conducted efficiently without difficulty or delay, even in noisy environments.
Bridge bar speech transfer system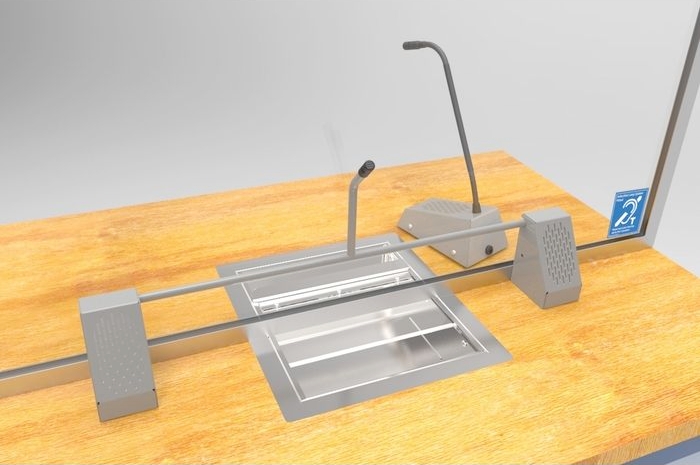 Each system is easy to use, offers excellent voice reproduction and enables hands-free operation for both the member of staff and the customer.
These window intercom systems can be installed as part of a new project or retro-fitted into existing facilities. The rugged yet attractive design ensures excellent reliability.
To enable communication assistance to hearing aid wearers and to meet the requirements of the Equality Act, a localised field Induction Loop system is integrated.
Each system comprises:
- Twin channel audio amplifier with power supply unit and bracket
- Microphone/loudspeaker unit with mute facility to ensure privacy for the staff member
- Microphone and loudspeaker for the customer
- Induction loop system
- Full user and installation guide
We offer an installation service or can supply complete kits that can be fitted by most electrical or technical trades.
Surface mount speech transfer system
The most popular systems are the Bridge bar (shown-top), Surface mounted (shown-above) and Flush mounted (shown-below). These systems are available in grey or black finish.
Flush mount counter speech transfer system
Other system designs are available (as shown below) as well as options for staff headsets. Please contact us for details.
Slimline bridge bar speech transfer system
Overhead speakers speech transfer system
Typical applications for a speech transfer system are:
- Reception counters
- Theatre sales kiosks
- Banks and building societies
- Benefit agencies
- Booking offices
- Bureaux de change
- Petrol stations
- Hospitals and clinics
- Police stations
- Post offices
- Railway stations
Or any other glazed counter.
Downloads
Speech transfer system with induction loop (bridge bar)
Speech transfer system with induction loop (surface mount)
Speech transfer system with induction loop (flush mount)
Contacta SecuriCom speech transfer system manual
For more information please contact us.