Infrared Interpretation Systems
Infrared systems are used throughout the world for hearing support and simultaneous interpretation. Sound Induction Systems are dealers for all the main professional manufacturers including Sennheiser, Listen Technologies, Williams Sound, Televic and Beyerdynamic.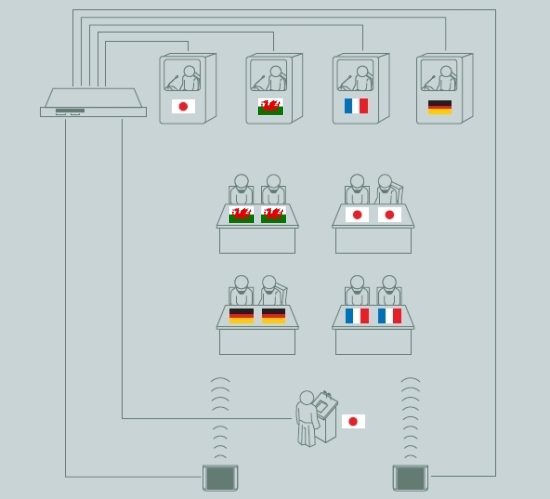 Simultaneous interpreting is a must for efficient international meetings. The advantages of infrared wireless transmission make it perfect for this application and a convenient alternative to conventional hard-wired systems. Infrared interpretation systems are secure and confidential as the infrared light is contained within the meeting room and thereby ensures that the proceedings cannot be heard outside the room. This also allows systems to be used in adjacent rooms without interfering with each other. Another advantage of infrared is that the receivers are wireless allowing delegates the freedom of movement.
Infrared wireless systems are available in both analogue (for up to 4 channels) and digital (allowing up to 32 channels). Infrared systems are powerful and flexible enough for use in almost any setting—public address, conference, museum, exhibition and court rooms. They are also used to assist people that are hard-of-hearing.
Make sure every speaker is understood—it's never been so easy! A wireless multichannel infrared system is the most reliable way to enable conference participants to follow every word from their interpreters. Up to 32 channels are available to transmit the floor language and up to 31 translations. Whatever the size or shape of the room, radiators can easily be placed to provide reception of all the translated languages.
The receivers are available in two types-
The stethoset receivers combine headphones and receiver in one unit and are available (depending on the manufacturer) in 2 or 4 channel versions.
The bodypack receivers can be handheld, placed on the table, worn in a shirt pocket or around the neck on a lanyard. These receivers have a 3.5mm socket to connect either earphones, headphones or a neck worn induction loop (to assist delegates that use a hearing aid) and are available (depending on the manufacturer) in either 2, 4, 6, 8, 12, 16 or 32 channel versions.
Receivers use rechargeable batteries which are charged in charging racks.
Large multi-channel infrared Interpretation systems are often integrated with a conference delegate sound system. This would provide the input channels from the interpreters, and the floor language channel into the system.
For more information please contact us
Does the system need to be easily portable? Do you need 14 channels or less? Have you considered a Williams Sound Digiwave RF system? Digiwave