Portable induction loop systems for one to one use
The Contacta portable localised field induction loop system has been designed specifically to aid communication with hard-of-hearing people who have the 'T' programme on their hearing aid.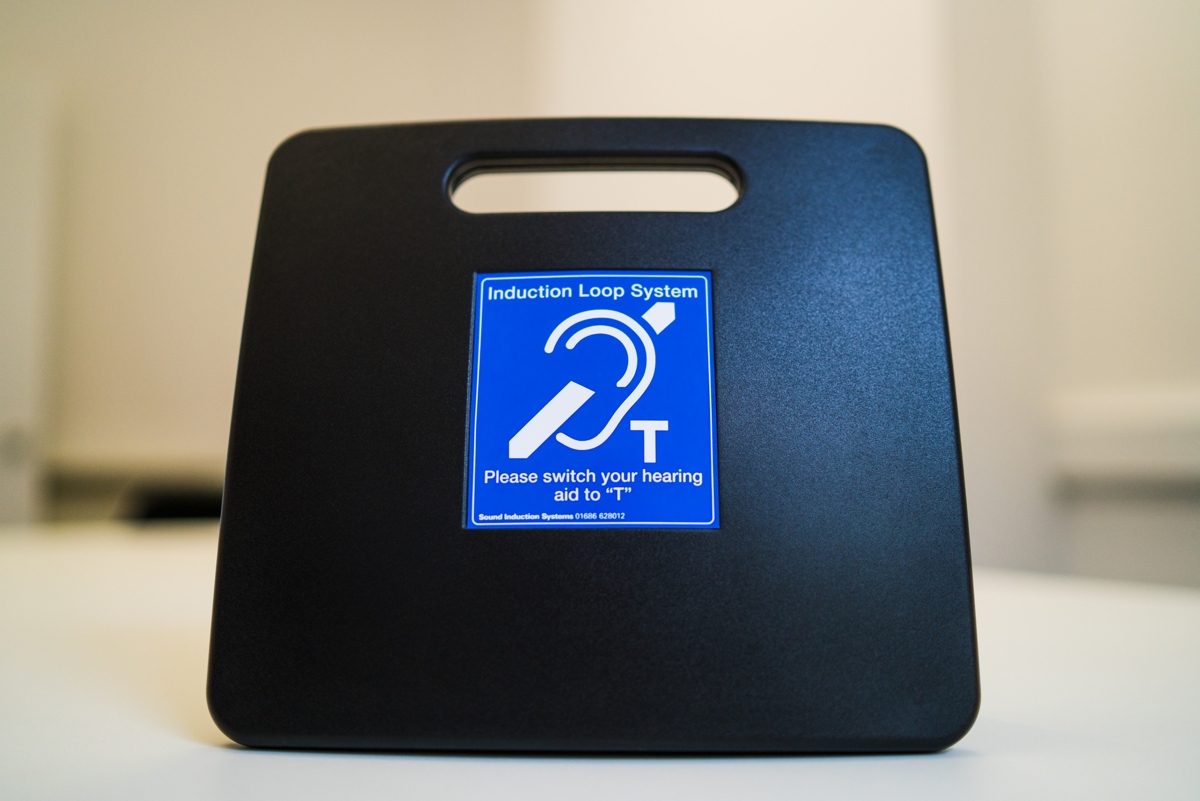 The stylish control unit is constructed in robust ABS plastic, incorporating an internal microphone, amplifier, rechargeable battery and antenna.
The unit has the latest microprocessor controlled automatic gain control, noise "gating" to improve reception of speech and automatic standby mode to conserve battery life (approximately 8 hours use on full charge).

The twin colour status LED displays input signal and battery condition.

The unit is fully operational at all times and may still be used when recharging becomes necessary.

The Contacta portable loop provides an exceptionally cost-effective solution wherever:
- Interim Equality Act compliance is required (e.g. during refurbishment, pending imminent business relocation or polling stations).
- A permanent induction loop is not possible/practical e.g. For doctors use on home visits.
- Public contact is only occasional.
The portable loop system is simply placed between the staff member and the customer. The staff member switches on the unit and talks to the customer. The staff member's voice is picked up by the internal microphone and then converted to a magnetic field which radiates for a maximum of 1.2m. The hard of hearing customer then switches their hearing aid to the'T' programme to convert the magnetic field back into audio.

Portable Induction loop system Accessories:

-Boundary Microphone - This is a small dome shaped microphone for use on a table (or any hard flat surface) to pick up voices across 360 degrees, e.g. group discussions.

-Lapel Microphone - This microphone is for use when it is not practical for the member of staff to face towards the back of the main unit, e.g. when speaking to a group.

- Phono cable - This is used to connect to the audio output of ancillary equipment e.g. DVD players, TV's, etc.

- Directional Microphone - This microphone is for use at desks and counters and has directional characteristics to help reduce background noise. It should be positioned to face the member of staff.

- Carry case - A soft fabric case to store the portable hearing loop and accessories for when the unit is used in different locations. The case has pockets and a shoulder strap.

- Shelf - A wall mounting shelf for storing the unit when it is not in use.
Easy to use
No installation works required
Simple, neat solution
No trailing wires or set up
Neat and compact
Unobtrusive, effective, inclusive
Portable perimeter induction loop systems
Sound Induction Systems can also supply Univox P 2.0 portable induction loop systems or custom build systems to suit each clients specific requirements. A typical system comprises a storage case with the following:
- Loop cable on a reel (to enable a temporary loop antenna to be installed around the area to be covered)
- Loop amplifier
- Wired and/or wireless microphones
- A loop test receiver to enable a non-hearing aid wearer to test/set up the system

Please contact us for more details and to discuss your requirements.